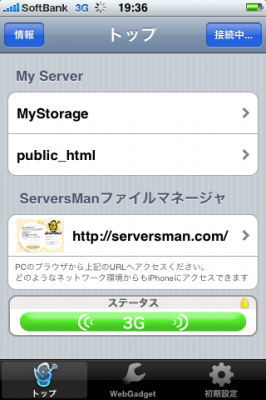 This is a new iPhone application which just debuted in Japan's App Store. Called "ServersMan@iPhone", the application allows your iPhone to appear just like any other web server on the internet.
Once the app is installed, PCs on the internet can access the iPhone to upload or download files through a browser or they can use the webDAV protocol. If the PC and the iPhone are on the same network, the PC can connect directly. If they are on separate networks, then FreeBit's VPN software will engage the connection.
At the moment, the ServersMan@iPhone is only available in the Japanese App Store, but an English version is coming in March. A port for Windows Mobile devices is also under development.
via readwriteweb

Leave a comment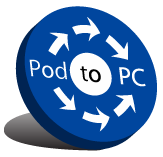 Pod To PC is a free software program to transfer data from any kind of iPod or iPhone to a computer. It supports all generations of the iPhone, iPod Touch, iPod Video, iPod Nano, iPod and iPod Shuffle making it an universal tool to transfer data from those mobile devices to a PC.
The software will run on any PC with Windows 2000, Windows XP or Windows Vista installed. The only other requirement is an installation of Apple's iTunes software. Pod To PC can copy music, videos and playlists from a supported device to the computer. Music and videos can be previewed and filtered on the iPod or iPhone prior to transferring them.
via ghacks

Leave a comment, read comments [3]

This app probably violated the iPhone developer's terms of service agreement, which states apps may not ridicule public figures. This fact is questionable. Anyway, you can watch the video of what it is:

Leave a comment

Google has released Sync support to instantly coordinate your Google Calendar and Contacts. Avaliable in Beta for iPhone (link), but works already. Do not forget to backup everythong before using

Reminder: Google Sync uses the Microsoft Exchange ActiveSync protocol, all existing Contacts and Calendar events will be removed from your phone.

Leave a comment

Our site is more about iPhone, than just Java for iPhone. So Java4iPhone.com has moved to iPhoneRoot.com. All posts, comments, links are saved. You can still access all info via java4iphone.com. However, please, update your links and feeds. Sorry for the inconvenience.
Thank you.

Leave a comment

Aluminium Case
3.2 Mpix front camera
5 Mpix camera
32Gb
Apple symbol and Home button with light

Leave a comment

Just paint with any sound. You can sing, talk, play on a musical instrument, or simply blow into the iPhone to paint a beautiful colorful pictures. The louder the sound, the bolder the stroke. You can save your creations to your iPhone photo library. To erase the screen, simply shake the iPhone.
Cost is $0.99 in AppStore (link).

Leave a comment

NYC radiologist decided to use his hospital's CT scanner to take some photos of stuff he had lying around, including an iPhone:
More photos can be found here.
Related posts:

Leave a comment

You draw shapes with a crayon that come to life on your iPhone / iPod Touch. You use these shapes to interact with the wheel, causing it to move according to physical laws. When it reaches the star, the level is complete.
The application costs just $0.99 (AppStore link). There is a free version of Touch Physics with fewer levels, 6 out of 50 (AppStore link).

Leave a comment

DevTeam updated yellowsn0w to version 0.9.8. It will not work with regular 2.2.1 firmware. If you want 2.2.1, you need modified (!!!) firmware 2.2.1, in which old baseband from firmware 2.2 is preserved.
Version 0.9.8 adds strability and fixes some bugs. So If everything works fine, I reccomend just leave it like it is. For example, I use 0.9.6 and feel happy with 2.2 firmware.
Related posts:

Leave a comment

This game will be in AppStore soon. You can also watch HD video here.

Leave a comment

Google has launched an optimized version of Google Books for the iPhone. This means that iPhone owners now have instant access to 1.5 million books, browsable by genre or searchable by, well, any criteria you like. And instead of serving scans of the pages as in the desktop version of the service, the mobile web app sends bandwidth-friendly plain text.
Here is a link to GooGle Books.
via wired

Leave a comment

The iPhone earrings are just $22, while the BlackBerry earrings sell for $19 a set. And there is no 2-year contract, you can waer them whenever you want.

Leave a comment

All you need is:
- I/O Bridge with Servo Module
- Webcam
- 2 Servos
- Buzzer
- Laser Pointer
- Spare Electrical Components from parts bin (Transistor, Resistors, LEDs, etc.)
- X10 Module
Read here more instructions.

Leave a comment

This is a wonderful 3d animation the Earth with the Moon and the Sun. Application is free in AppStore (link).
The new version of this app will be called Earth3D+. More planets will be added. It will appear in AppStore soon. Watch the video:

Leave a comment, read comments [1]