Chinese Firm Compares Apple to Nazis to Promote Its Own Smartphone

Creating anti-Apple ads has for a long time been the priority of Samsung and Microsoft. However, what this companies have never done is comparing the guys from Cupertino and their iOS to Nazis and their regime.
One Chinese company called LeTV has recently released a poster showing Apple in the form of Nazis. This poster has been created as a part of the promo campaign for the company's upcoming Android device. The offensive image, which has been first spotted on Weibo, is available below, take a look.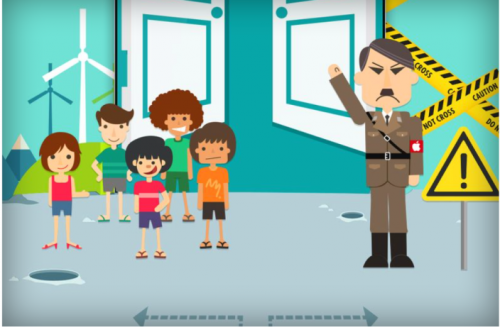 Rival tech companies haven't been shy when it comes to Apple attack ads, but one Chinese company has definitely crossed the line in a promotion for its forthcoming Android smartphone. LeTV has posted to Weibo a poster likening Apple to Nazis, a red Apple armband replacing the Nazi logo.
To be honest, I think that LeTV has created that poster just to gain popularity using Apple's name. It seems to me that nobody in Europe or America has ever heard about this firm. Now we know that this is a Chinese smartphone manufacturer.
The guys from Cupertino hasn't yet commented on the issue and I'm note sure they will. Anyway, what do you think about the aforementioned poster?
[via 9to5Mac]

Leave a comment