Claimed SIM Tray for Next-Generation iPhone 5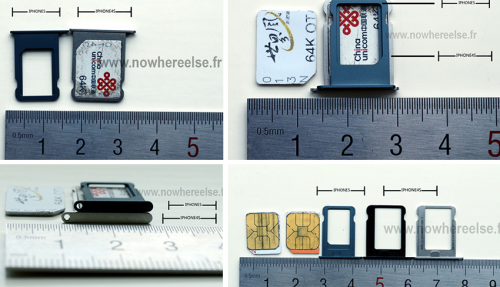 New photos of the next-generation iPhone 5 SIM tray have surface online, claiming Apple's plans to introduce a more compact "nano-SIM" standard alongside this year's iPhone launch. The photos of the empty SIM tray, published over at Nowhereelse.fr, reveal a design that will command roughly 40 percent less internal space when compared to existing micro-SIM cards. Sized roughly a third smaller than existing MicroSIM cards found inside current iPads and iPhones, the so-called nano-SIM design was reportedly modified back in May to address objections on the part of rival handset maker Nokia.
With new photos of the next-generation iPhone's SIM tray in hand, we have reexamined the photos from early May of what was also claimed to be the device's SIM tray, and we now believe that we were incorrect in our initial assessment that that part represented a micro-SIM tray nearly identical to that found in the iPhone 4S. While those photos did not show the side of the tray that holds the SIM card, the overall dimensions of the tray are in a ratio of roughly 1.55-1.6. This is in line with what is seen on the new nano-SIM tray shown by Nowehereelse.fr and different from the iPhone 4S micro-SIM tray that has dimensions in a ratio of approximately 1.37. The nano-SIM card itself has dimensions in a ratio of 1.4, compared to a ratio of 1.25 for the larger micro-SIM.

Leave a comment