Phil Schiller on History of the iPhone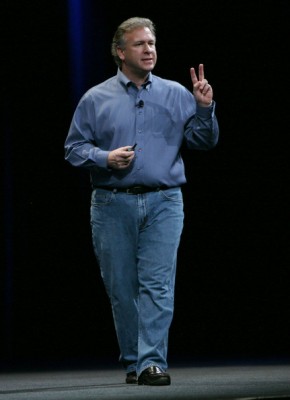 Phil Schiller took the stand today, describing Apple's development of the iPhone and iPad at a time when few believed the company could shake up the mobile industry, offering a bit of insight into the history of the iPhone. AllThingsD posted a summary of Schiller's comments.
People suggested all kinds of things Apple could do, Schiller recalled: "Make a camera, make a car, crazy stuff."
Schiller said the company had been working on the tablet computer that would later become the iPad, but decided to shift its attention to the phone.

"At the time, cellphones weren't any good as entertainment devices," Schiller said.
Schiller also revealed a bit of information on iPhone marketing. He told that the U.S. iPhone advertising budget expanded from $97.5 million in fiscal 2008 to $173.3 million in fiscal 2010 and the company's overall advertising budget in fiscal 2010 came in at $691 million and grew to $933 million in 2011.
Of note, Schiller also went into how the company performs market research, a controversial topic given the fact that late Apple co-founder Steve Jobs once pooh-poohed such studies, saying the company would design products people didn't even know they wanted yet. Apple brought up market research in this case to point out how important design is to consumers, 85 percent of whom, according to Apple's own 2011 study, said design and appearance were important.

Schiller did his best to finesse how these surveys came to be, saying they did not go out to random people but to customers who had already purchased one of the company's devices. Schiller also said that Apple purchases third-party reports of market trends and other data.

Leave a comment