Clippy updated to 0.98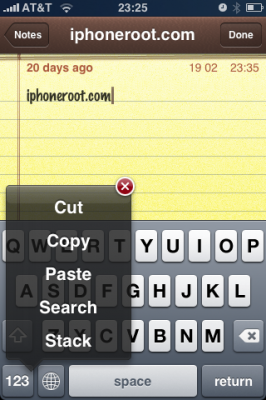 Clippy is an iPhone addition for copy/paste functionality. It was updated to version 0.98. There are significant improvements that make the application much more stable, and moreover it is important to note that starting from now, Clippit becomes a completely free.
Avaliable via Cydia and Icy for jailbreaked iPhones.
Changelog for 0.98: March 29, 2009:
Donate button added
Expiration code removed
More translations updated
Fix for accidental activations cause by UIScrollView/UIScroller events buffering
Menu aborts display if finger is moved/released while menu is showing
Now retrieves orientation from the statusbar if the window won't comply (fixes Safari and iPod in landscape)
Fix for apps that use a custom input traits (such as Colloquoy)
Paragraphs with inline links now copy the entire paragraph
All text no longer becomes highlighted when tapping text in some web sites (Gmail, others)
After saving an image to the library, Safari now continues to load properly
Holds are now more lenient and allow slight movement
Support for the upcoming HapticPro

Leave a comment