Creative Hitz WP-380 review

Many users think of buying new modern wireless headphones to replace original old-type ones that came with a player or a smartphone. Today we will show you Hitz WP-380 headphones from Creative.
First impression always starts from the process of unpackaging the box. Hitz WP-380 looks great, at first sight one can tell that these headphones are very well made. The design is modern. These on ear type headphones have professionally-tuned 34mm neodymium drivers that must deliver excellent sound. There is also a microphone, so Hitz WP-380 can be used to make calls as well. Official web page positions Hitz WP-380 as a Lightweight On-ear Bluetooth Headset with NFC.
The box has the headset, small travel pouch, mini-USB cable for charging, standart 3.5mm audio cable and user manual.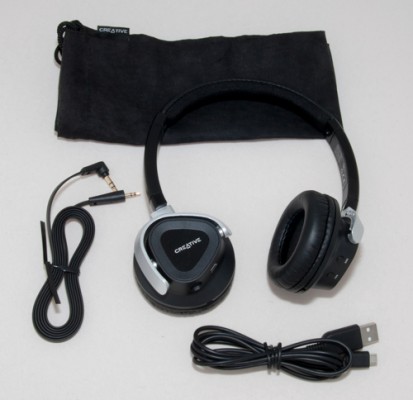 The design is simple and modern. The quality is very good, just as you'd expect from device made by Creative. The headset sits comfortable and can be adjusted in several ways. The cups do fold, which is good. We find these headphones fairly comfortable and experienced no problems wearing them for a long time. WP-380 weights just 5.3 oz (150 g).
The microphone is hidden in the earcup, it's a little far from the mouth, it is  it is hard to use the WP-380 headset in a noisy place.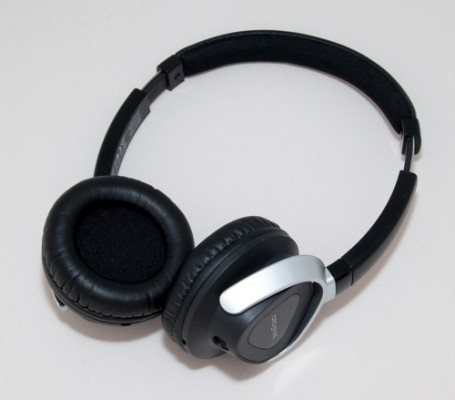 It is very easy to start listen to the music: you need is to turn on WP-380 and keep holding on/off button. The light goes blinking blue, which means it is ready to connect to some gadget. On the iPhone just navigate to Settings - Bluetooth, then find and select Creative WP-380 in the list of found devices. That's it. Easy! The working distance is approximately 33 ft (10 meters), which is enough to walk around the house with no need to carry your player or smartphone with you.
WP-380 can also connect to devices with NFC technology (Near Field Communication). Unfortunately Apple smartphones do not support NFC, while Android users will be happy to try NFC.
Another interesting fact about WP-380 is Creative ShareMe and Creative Multipoint. Creative ShareMe (one source, two headsets) allows you to share your music wirelessly with your buddy or loved one using another Creative ShareMe-enabled wireless headset. Creative Multipoint (two sources, one headset) allows you to pair two separate devices to the headset at the same time. This means that you can easily switch your music source between these two Bluetooth stereo devices.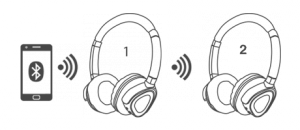 There are several buttons to control the headset. The on/off button is used to turn headset on and off, to set up BlueTooth connection, and to answer the incoming call. Using next, previous, play/pause (combined with on/off button) is is possible to control the music, stop/play, skip to the next track or play the previous one. Volume buttons are used to control the volume. Unfortunately it is not possible to use Siri voice assistant on the iPhone, there is just no button for that.
The quality of the sound is very good. This is not a surprise, since Creative uses different software and hardware trick s to improve sound playback and recording quality. Middle and high frequencies are well done, bass is good as well. The built-in speech microphone with ClearSpeech Engine actively suppresses external noises and digitally enhances speech clarity so that your conversations are loud and clear.
By the way, users of iPad tablet and iPod Touch player can use this headset to talk via Skype and similar voip apps.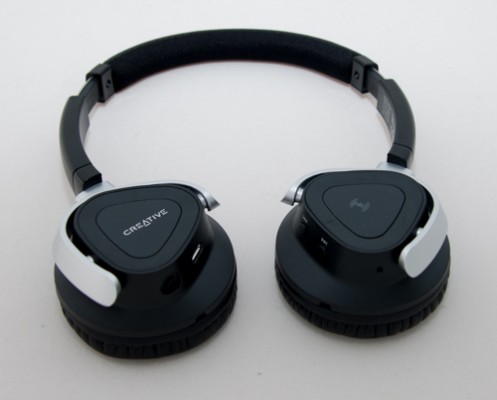 The compatible list of devices is quite high. Hitz WP-380 works with Bluetooth enabled devices as well as with with every phone and player that has a standart 3.5mm jack.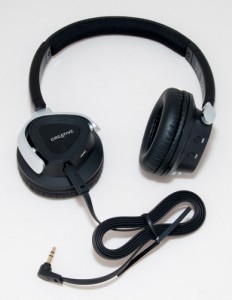 Creative WP-380 charges in about an hour. Internal battery gives us approximately 12 hours of playback time.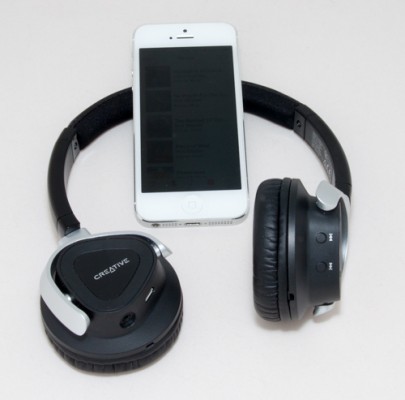 Technical Specifcations:
General

Wearing Style

:

On-ear

Weight

:

150g (5.3oz)

Adjustable Headband

:

Yes

Color

:

Black

Included Accessories

: 1 detachable flat audio cable, 2.5mm-to-3.5mm gold-plated stereo plug (1.2m)
1 travel pouch
1 USB charging cable (1m / 3.3ft)

Specifications

Product Type

:

Wireless Headset

Volume Control

:

Yes

aptX

:

Yes

Drivers

:

34mm (1.33 inches) Neodymium magnet

Frequency Response

:

18Hz ~ 22kHz

Impedance

:

32ohms

Connector Type

: Bluetooth 3.0
2.5mm-to-3.5mm gold-plated stereo plug

Cable Length

:

1.2m / 3.9ft

Cable Style

:

Detachable flat audio cable

Near Field Communication (NFC)

:

Yes

Bluetooth Profiles: A2DP
AVRCP
HSP
HFP (HD Voice ready*)
*HD Voice requires supported smartphones and mobile networks.

Audio Codec

: aptX
AAC
mSBC
SBC
FastStream*
*FastStream allows low latency wireless bi-directional audio streaming and voice communication with Creative BT-W1 Bluetooth USB transceiver.

Content Protection

:

SCMS-T

Operating Range

:

Up to 10m / 33ft

Battery Specifications

Type of Battery

:

Rechargeable Lithium Ion battery, 3.7V, 430mAh

Battery Life

: Play time: 12 hours
Talk time: 14 hours

Recommended Usage

Wireless Streaming

:

Yes

Music/Movies

:

Yes

Chats

:

Yes
iPhoneRoot thanks Creative and Powersales International for providing Creative WP-380 review sample.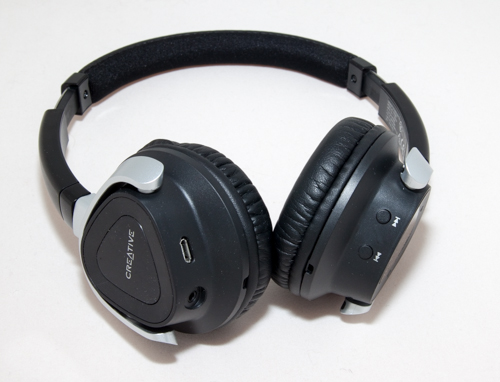 Leave a comment