Demand for Apple's iPhone 6 Is Incredibly Strong - Analysts

According to a survey conducted by a firm called RBC Capital Markets, the demand for Apple's next-generation iPhone is incredibly strong. Among 4.000 people, who took part in a poll, nearly 50% said they will buy an iPhone 6. Moreover, about 25% assured they will pay $100 more for the larger 5.5-inch model.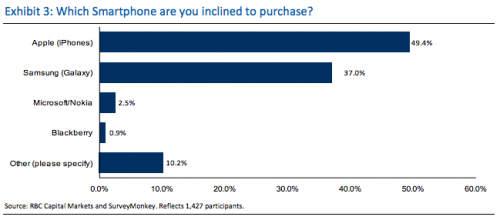 While ~49% of smartphone purchasers are inclined to buy the next Apple product, we learned that the main driving factor for sales surround performance improvements (battery life 33%, processor 18%, camera 12%).
What is interesting about Apple's customers is that they try to keep abreast of the latest news related to Apple. For example, 74% of survey participants know that the release of the next-gen iPhone is set to take place this fall.
Earlier, it was reported that the 4.7-inch version of the smartphone will be unveiled in September and the 5.5-inch - a bit later. Now insiders claim that both iPhone models will come in September. To be honest, I don't know whom to believe.
[via iClarified]

Leave a comment