Demand for iPhone 5c Finally Growing, iPad 2 Remains Apple's Most Popular Tablet - Research Results

According to the latest Localytics report, Apple's iPhone 5c is slowly, but steadily gaining popularity. One week after the iPhone 5s and 5c release, however, the new flagship has been far ahead of its plastic counterpart.
Now some figures - 7 days after the initial launch, there has been 3.3 active iPhone 5s' for each iPhone 5c in the world. Things have changed since that time and what we have today is 2.3 iPhone 5s units for each 5c sold. Looks like people have finally understood that the plastic iPhone is a pretty functional device for its price.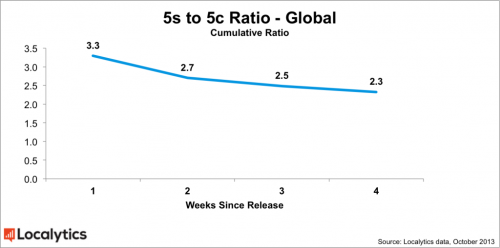 The Localytics report deals with iPads as well.
In anticipation of Apple's big event on Tuesday and the rumored new iPad and iPad Mini release, we wanted to take a quick look at how well the iPad Mini has performed to date. According to our data, the current Mini has only achieved a 17 percent market share of all of iOS tablets. What is also interesting is that the iPad Mini and the 4th generation of the iPad combined represent only 35 percent of all of active iOS tablets.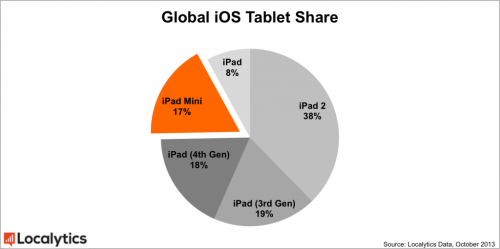 I'm wondering whether the new iPad 5 and iPad mini with Retina display will become Apple's new most-popular tablets. Well, we'll see.

Leave a comment