Evad3rs Release Evasi0n7 1.0.3 for OS X and Windows

Evad3rs have released a new version of their jailbreak tool. Evasi0n7 1.0.3 is compatible with computers running both OS X and Windows; it also contains a number of important fixes and improvements.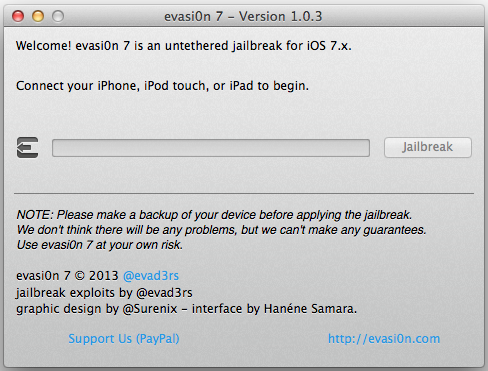 Apart from that, those who want to try out the new iOS 7 beta 3 can now install and jailbreak it using the latest evasi0n7 1.0.3.
According to iDownloadBlog,
Evasi0n 7 1.0.3 has just been released for OS X and Windows with a fix for the boot loop issue that has been plaguing Retina iPad mini users. The release, which is the fourth of the jailbreak tool, also includes support for iOS 7.1 beta 3 and a new Cydia bundle.
One can download evasi0n7 1.0.3 from here.

Leave a comment