Fake 13-inch Skylake Retina MacBook Pro Benchmark Results Surface Online

Two interesting benchmark results were spotted on Geekbench 3 on January 14th. These results demonstrate the performance level of the upcoming 13-inch Retina MacBook Pro with a new Skylake processor inside. However, it is not entirely clear whether we indeed deal with the results of the yet unannounced MacBook Pro or an unknown device known as Hackintosh. In case you don't know, Hackintosh is a non-Apple computer with OS X on board.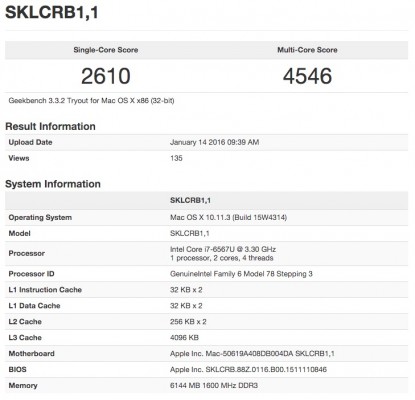 The laptop scored 2610 points in single-core and 4546 points in multi-core test. Despite decent results, it is rather difficult to believe what we see as the build number of OS X 10.11.3 used in benchmark (15W4314) doesn't correspond to the one Apple is supposed to give to the unreleased machine.
The build number for any machine running OS X 10.11.3 should begin with "15D", following Apple's naming pattern of "15A" for OS X 10.11.0, "15B" for OS X 10.11.1, "15C" for OS X 10.11.2 and "15D" for OS X 10.11.3.
Apart from the wrong OS X build number, the model identifier of the new MacBook Pro, which is SKLCRB1,1, doesn't seem to be legitimate. Finally, the benchmark results of the purported new model are lower than those of the current MacBook Pro.
[via MacRumors]

Leave a comment