First iPhone 6 and iPhone 6 Plus Benchmark Results

Following the release and record-breaking first weekend sales, AnandTech experts took both iPhone 6 and iPhone 6 Plus for testing and benchmarked them. Moreover, the newly-released handsets were compared to the iPhone 5s and a number of rival handsets including the HTC One (E8), Motorola Moto X, Samsung Galaxy S5, Google Nexus 5 and some others. If you one of those people, who like Apple and its products, you will be pleased with the results of the benchmarks.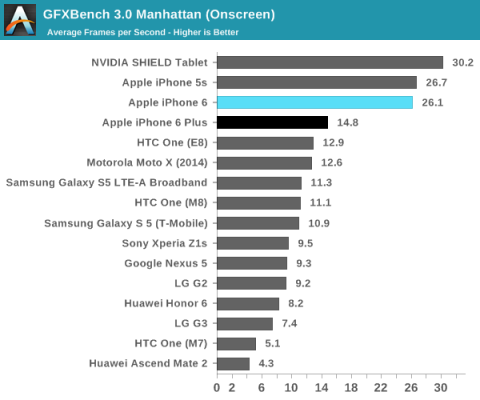 The iPhone 6 and the iPhone 6 Plus top the CPU performance and battery life benchmarks. This is all due to the new A8 processors manufactured by TSMC and the batteries with improved capacity. The only weak point of the larger iPhone 6 is its graphics performance. The reason for relatively poor results is a massive 5.5-inch screen. The graphic performance of the 4.7-inch model is OK.
AnandTech spent the weekend benchmarking the iPhone 6 and 6 Plus, comparing the duo to the iPhone 5s and competing Android handsets. The test results show that iPhone 6 and iPhone 6 Plus models are at the top of the charts in CPU benchmarks and battery life, while the iPhone 6 Plus lags in graphics performance due to the larger screen.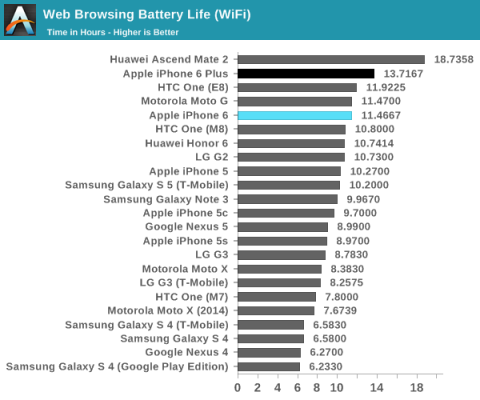 Both devices can boast of high-performance hardware that helps the handsets cope with difficult tasks. If you're interested in more details about the interior parts of the smartphones, you may take a look at the iFixit teardown of the iPhone 6 and iPhone 6 Plus.
[via MacRumors]

Leave a comment