First Photo Showing Battery for iPhone 6 Appeared Online

New photos showing something very similar to the battery for the 4.7-inch iPhone 6 appeared on the Internet earlier today. As you may see on the image below, the battery has a capacity of 1,810 mAh. If to compare this battery to the battery found inside of the iPhone 5s, we may see that its capacity only slightly higher as the capacity of the current Apple's smartphone.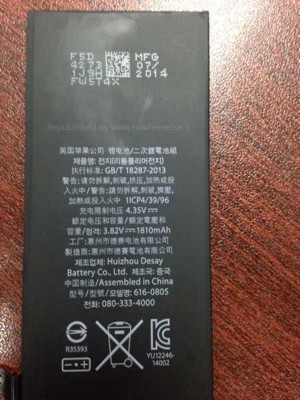 New photos of a purported battery from the 4.7-inch iPhone 6 (via Nowhereelse.fr, Google Translate) appears to show a capacity of 1,810 mAh for the upcoming device. If legitimate, that capacity would be a modest improvement over the 1,560 mAh battery in the iPhone 5s, and would be in line with a report earlier this month that estimated the 4.7-inch iPhone 6's battery to be between 1,800 and 1,900 mAh.
All of the rival devices, including Samsung's Galaxy S5 and the HTC One (M8), have better batteries, so looks like it will be very difficult for the iPhone 6 to compete with these smartphones.
Anyway, the legitimacy of the images is still under the question, so you'd better take them with a few pinches of salt.
[via MacRumors]

Leave a comment