Future iPhone May Be Used with Apple Pencil

Patently Apple published Apple's application for a patent to use iPhone with Apple pencil.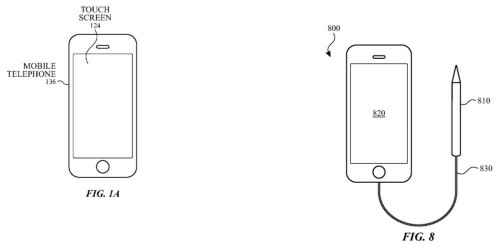 The patent concerns the way of recognizing the pencil's position on the screen. First, the device will identify the rough position and after that smaller sensors will be activated to further precise the location of the pencil.
The touch sensing system may perform one or more coarse input device sub-scans to determine a coarse location of the input device. The coarse location can be used to select one or more touch sensors (or sensor channels) to sample for decoding data encoded in the stimulation signals from the input device. During one or more fine input device sub-scans, the touch sensing system can determine a fine location of the input device and decode the data from the input device sampled from the selected touch sensors (or sensor channels).
Though the patent doesn't actually name the device iPhone, it's clear if to look at the illustration and the patent also mentions a mobile phone. Some reports say that a smaller Apple Pencil may come with 2019 iPhone model, but it has not been confirmed yet.
[via 9to5Mac]

Leave a comment