Google Announced New Version of Android Market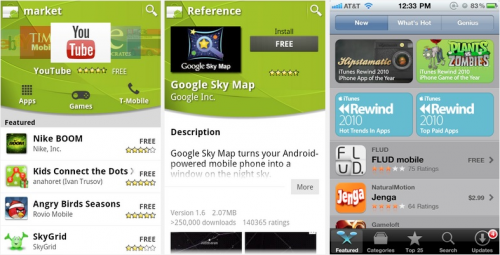 This week Google has released a new version of its client app for Android Market, which will work on any smartphone running Android OS 1.6 or higher.
The company aims to facilitate the process of discovering new software and its purchase. That's why new Android Market will have a Cover Flow-like style of app listings and include new categories like Widgets and Live Wallpapers, as currently the catalog is filled pretty much with these kinds of software. Besides that, app pages will now have more info and links to related content.

Some changes were made to the policy of software returns. If earlier user could take his money back in case he didn't like the app he bought within 24 hours, now this time is shortened to 15 minutes.
As the number of Android devices continues to grow and it becomes hard for developers to make their apps hardware compatible with as many existing handsets as possible, Google presents its new solution:
"To make it easier for developers to distribute and manage their products, we will introduce support for device targeting based on screen sizes and densities, as well as on GL texture compression formats."
Another important feature of new Android Market is a new limitation of app file size, which is now extended to 50 MB (earlier it was 25 MB). This is still 40 times smaller than the current limitation for iOS apps (2GB). This can be explained by the fact that iOS apps can be downloaded not only via its mobile client (like apps for Android), but also via iTunes, that can be connected to the Internet in any possible way and thus capable to download such amounts of information. Nevertheless, some developers pass this limitation by offering tiny apps for Android that can download necessary files (like music, textures, video) of any size after its purchase.
However, Google's attempts to create a rival to an App Store still are not successful as they can be. AppleInsider has studied the subject and revealed that the Android's openness has led to a number of cases when popular titles like Radiant were cracked to be used as illegal copies by "97% of players in Asia, 70% in Europe and 43% in North America". That's why most of developers like Rovio (which created Angry Birds) offer free versions of their apps to earn money from showing the ads. But that kind of income is not as profitable as offering paid apps, which makes iOS more attractive for developers than Android.
It was also noted that Android Market offers poor security for users, though this situation can be changed by cleaning up the store. At least, that was what the developer of DoubleTwist Jon Lech Johansen advised Google more than a half a year ago, but the company has not still made any steps in that direction.

Leave a comment, read comments [1]