Google Updates YouTube Player for iPad, Disables Fullscreen Mode

It appears that Google has recently updated their embeddable YouTube player for iPad. While the update usually means that software becomes more stable, efficient and gets new features, this one is not as good as it was expected to be. Google has killed the fullscreen mode on Apple's iPad. It is currently unknown whether Google has done this intentionally or accidentally, the fact remains: the only way for Apple's tablet users to watch fullscreen YouTube videos is to use the iOS application for iPad.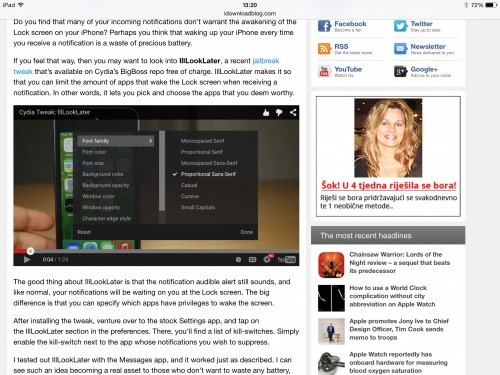 Google seems to have quietly upgraded its embeddable media player for tablets. On iOS, however, it's killed an essential feature: fullscreen mode on iPads, as first noted by German blog Apfelpage.de. The change does not affect Google's native YouTube app for iOS, which still lets you play clips embedded in webpages in fullscreen on your iPhone, iPod touch and iPad.
That's not the first change from Google affecting Apple users. Earlier this year, the search giant stopped supporting the YouTube application for older Apple TV set-top boxes and iPhones, iPads and iPod touch models running iOS 6 or earlier. The only way out for users with older version of Apple's mobile operating system on their device is to use the mobile browser version of YouTube.
[via iDownloadBlog]

Leave a comment