Home Sharing to Be Restored in iOS 9 - Eddy Cue

According to what Apple's Senior Vice President Eddy Cue shared on Twitter, the guys from Cupertino are currently planning to restore the Home Sharing feature for music in iOS 9, which is expected to be released to public later this year. In case you don't know, Home Sharing was pulled out from iOS 8.4 and many users started complaining about this.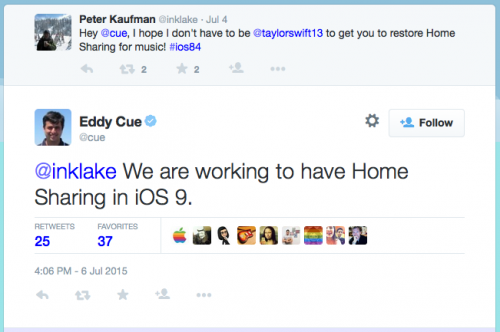 Peter Kaufman was one of the first to ask Apple about the possibility to restore the useful feature. As an answer to his inquiry, Eddy Cue posted such tweet:
@inklake We are working to have Home Sharing in iOS 9.
Unfortunately, Eddy Cue didn't share any other details concerning the useful feature and its comeback to iOS. However, I will keep you posted about this issue. Stay tuned for more posts.
[via iClarified]

Leave a comment