How to Jailbreak Your Device Running iOS 9 Using Pangu for Windows

As it was already mentioned on our website, the Pangu team has recently released the untethered jailbreak of iOS 9. Below you will find the instructions for your iPhone, iPad and iPod touch running iOS 9, iOS 9.0.1 and iOS 9.0.2. Note you will need a Windows computer to jailbreak your device.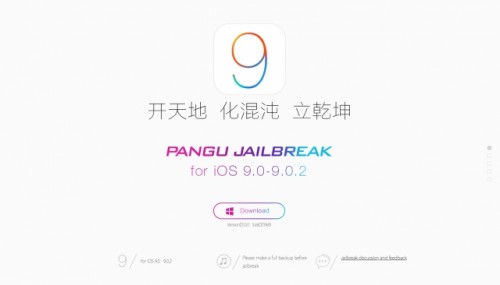 Download the latest version of Pangu and save it on your computer.
On your device, open the Settings app, select Touch ID & Passcode and turn the passcode off. If it's not enabled, everything is fine.
Go back to the Settings app and make sure the Find My iPhone feature is turned off.
In the Settings app, turn the Airplane Mode on.
Connect your device to iTunes via USB and backup all the data.
Open the Pangu app, it should detect your device. Before you hit the big Start Jailbreak button, make sure you uncheck the PP checkbox.
After you see the window asking you whether you've backed up your device and turned on the Airplane Mode, click the right button (Already Did).
The jailbreak process will start.
Once your device reboots and hits 65% mark, you will be once again prompted to turn the Airplane Mode on.
At 75%, open the Pangu app on your device and hit Accept. Apart from that, allow Pangu to access your photos.
After the jailbreak process ends, your device will restart and you'll see the Cydia app installed.
Feel free to ask any questions about the untethered jailbreak of iOS 9 in the comments section below this post.
[images and tips via iClarified]

Leave a comment