I0n1c Performs Untethered Jailbreak of the iPad 3 [Video]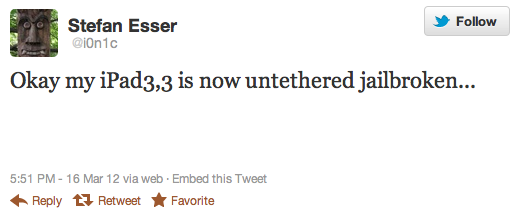 Stefan Esser, better known as i0n1c, just announced that he has successfully performed an untethered jailbreak of the iPad 3.
Okay my iPad3,3 is now untethered jailbroken...
Although the iPhone Dev-Team already announced their own jailbreak of the device earlier today, they did not specify whether their jailbreak was tethered or untethered.
I0n1c's jailbreak will likely work on all iOS 5.1 devices including the iPhone 4S if its released. Earlier this week he posted images of a jailbroken iPad 2 on iOS 5.1.
UPDATE: I0n1c posted a YouTube video to show the jailbreak:

Leave a comment, read comments [6]