iPad 3 Utilizing Same Camera Sensor Found In Older Apple's Devices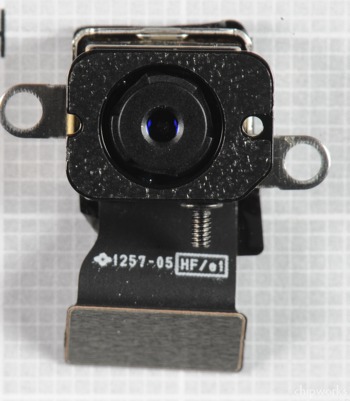 Following the iFixit's dismantiling of an iPad 3, Chipworks has started sharing the results of its own new iPad teardown. The most interesting discovery is that Apple has seemingly reused cameras from its prior devices for both the rear and front cameras of the iPad 3. The rear camera that is shown above seems to be the 5 MP CMOS Image Sensor the company used in the iPhone 4.
"That unit was the Omnivision OV5650. The OV5650 is the second generation back illumination (BI) technology from OmniVision. This 5 Mp camera features 1.75 µm pixels, and is designed to deliver DSC quality in a mobile phone application. The sensor supports HD (1080p) video at 60 fps. Apple specifications for the new iPad also tout the same specification. So the analysis we have just completed… drum roll please... says that the 5 Mp back illuminated CMOS Image Sensor in the new iPad is the same, it is the Omnivision OV5650 (die mark OV290BF)".
The front camera in the tablet is the 0.3 MP Omnivision OV297AA unit found in the camera-equipped iPod Nano and iPad 2. Chipworks says this is not for the first time Apple has reused parts in its new products, as this allows keeping technological risks and costs low.
Chipworks has also a few other tidbits from the teardown, including the revelation that Apple is sourcing DRAM for the new iPad from two companies. iFixit's teardown has shown that DRAM in iPad 3 came from Elpida, while Chipworks iPad includes DRAM from Samsung.
In addition, Samsung is the manufacturer of the A5X chip and Apple is again utilizing Samsung's 45nm CMOS manufacturing technology. The A5X's die is larger than its predecessor by 36.5%, measuring 163 mm2 compared to 119.32mm2 for the A5's die.

Leave a comment