iFixit Tears Apart iPad Air to See What's New Inside

iFixit team has recently torn apart Apple's new iPad Air to see what's new inside. They've found out that the entire tablet construction resembles such of the iPad mini; moreover, there're some internal parts shared with the iPhone 5s.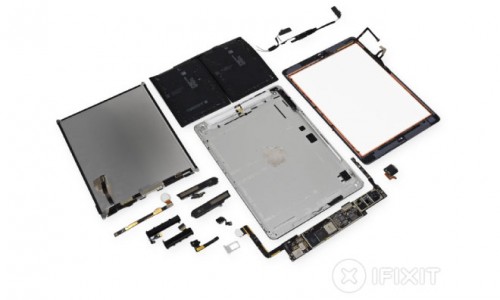 The iPad Air is equipped with a new two-cell design 32.9 watt-hour battery and a thinner LG-manufactured display. What is interesting about the latter one is that it is separated from the cover glass, unlike the iPhone 5c and 5s LCD's.
Here's what can be found on the tablet's logic board:
Apple A7
Elpida F8164A1MD LPDDR3 SDRAM
Toshiba THGBX2G7B2JLA01 16 GB NAND Flash
Apple M7
Apple Dialog Power Management IC
USI 339S0213 Wi-Fi Module
Apple 338S1116 Cirrus Audio Codec
Broadcom BCM5976C1KUB6G Touch Screen Controller
Qualcomm M9616M Baseband Processor
TriQuint TQF6514 RF Power Amplifier Module
Three Skyworks SKY77-series LTE RF Power Amplifier/Duplexer Modules
Two Avago A79-series LTE RF Power Amplifier/Duplexer Modules
Murata Antenna Switch/Filter Module
WTR1605L Transceiver Module
Qualcomm PM8018 PMIC
Below you may take a look at photos of the disassembled iPad Air.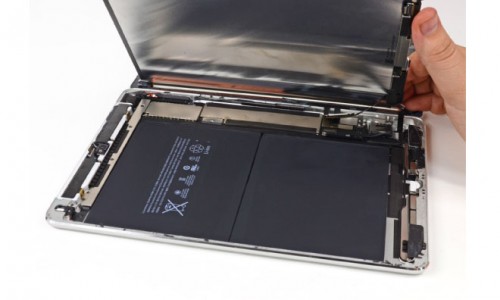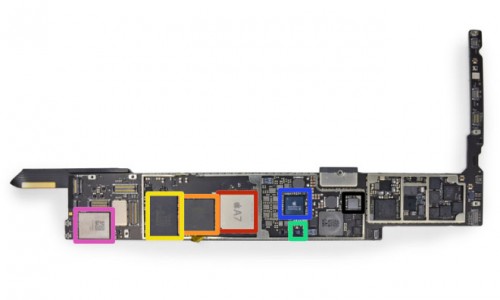 Leave a comment