iMac Shipping Estimates Improve to 3-5 Days in the USA

According to what can be seen at the U.S. Apple Online Store, the shipping estimates for all the 21.5-inch iMac models apart from the entry-level one, which is the cheapest, have recently slipped to 3-5 business days. This indicates that the guys from Cupertino do their best to catch up with the demand for this device. I wish they had the same situation with their Apple Watch, which is currently constrained.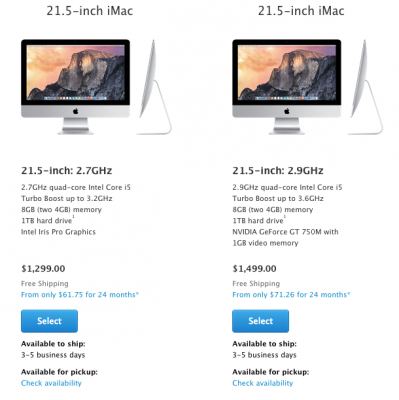 iMac shipping estimates have slipped to 3-5 business days on the Apple Online Store in the United States for all models aside from the entry-level 21.5-inch option with a 1.4GHz dual-core Intel Core i5 processor.
The current-generation iMacs were released in 2014. In case you don't know, the prices for the newest models of this computer start at $1.299. Those who live in the USA and want to purchase any of the models from the iMac lineup can do this right now.
[via MacRumors]

Leave a comment