Image Showing Manufacturing Mold for iPad Pro Back Panel Appears Online

A new photo showing something very similar to the mold for the production of the long-anticipated larger iPad Pro back panel appeared on a Chinese microblogging website Weibo. While there's no way to confirm the legitimacy of the image, the production mold depicted on it may be indeed for Apple's tablet with an enormous 12-inch display. Still, it can be an unofficial mold used to create iPad Pro dummies and physical mockups of the device.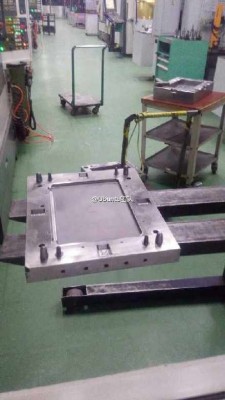 Few details can be discerned from the relatively poor quality photo, although it does appear to show faint details that could represent an Apple logo in the center and perhaps a rear camera feature in a corner. Exact size is also unknown, but it certainly appears larger than an iPad Air.
Apple's iPad Pro is a very mysterious device. The analysts can't say for sure if the guys from Cupertino are currently working on it or not. The Wall Street Journal reporters claim Apple had decided to pause the development of the tablet in order to produce enough iPhone 6 and iPhone 6 Plus units to catch up with the demand. Some sources, however, still believe the iPad Pro may be announced or even released between April and June of 2015.
[via MacRumors]

Leave a comment