Intel's Iris Graphics Boost New 13-inch MacBook Pro GPU Performance by at Least 50%

Apple's 13-inch MacBook Pro equipped with Intel's Iris integrated GPU proved that it is significantly faster in terms of graphics performance if compared to predecessors.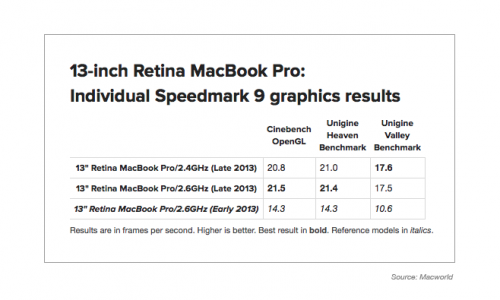 According to AppleInsider,
Cinebench r15's OpenGL benchmark clocked frame rates 45 to 50 percent higher than the previous MacBook Pro generation, while Unigen's Heaven benchmark notched a 65 percent improvement on Apple's latest hardware, reports Macworld. The publication compared results from a 13-inch 2.6-gigahertz Haswell-equipped Retina MacBook Pro against those from an early 2013 vintage 2.6-gigahertz Ivy Bridge edition.
So, it turns out that the new Apple's laptop will suit perfectly all those people who usually put a huge load on the GPU while working - designers, photographers etc.

Leave a comment