iOS 10 Adoption Reaches 54% - Apple

Apple has just announced that iOS 10 adoption has reached 54%. The figure is based on the statistics gathered by the App Store, so it includes only those devices that have been active over the last couple of weeks.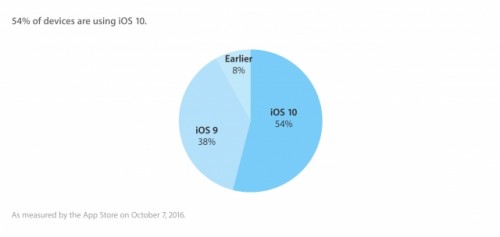 iOS 9 is installed on 38% of active iPhones, iPads, and iPod touch units, while 8% of users continue to utilize an older version of firmware.
Apple released iOS 10 on September 13th, several days after the release of the release of the iPhone 7, iPhone 7 Plus, and the Apple Watch Series 2.
iOS 10 features a wide number of design changes, a lot of new features as well as bug fixes and security enhancements. It is compatible with iPhone 5 and newer devices.
If you haven't yet upgraded to iOS 10, you can do this right now with the help of the Software Update option on your device or using iTunes on the Mac or PC.

Leave a comment