iOS 10 Adoption Reaches 66.7% - Analysts

According to the latest report from a research firm Fiksu, iOS 10 adoption rate has reached impressive 66.7% less than a month after public release. Strong initial demand for the iPhone 7 and iPhone 7 Plus as well as the compatibility of the operating system with older devices like the iPhone 5 are among the factors that contributed to such fast adoption. As to the main reasons for people to upgrade, they include new design and many new features.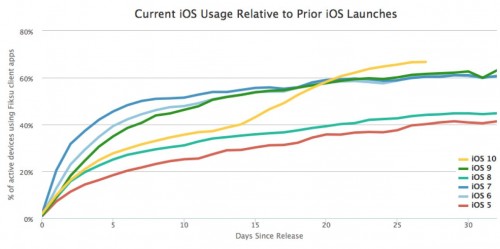 iOS 10 has beaten iOS 9 as the firmware version with the fastest adoption.
As shown by the graph, iOS 10 has the fastest adoption rate than any previous update, a month after release. Interestingly, iOS 10 initially lagged behind iOS 6, 7 and 9 until about two weeks in. The upgrade rate then rockets upwards to take the top spot at the end of September.
iOS 9 remains the second most popular version of Apple's operating system, while iOS 8 rests on the third spot.
What iOS version is installed on your device? Leave your comments below this post.
[via 9to5Mac]

Leave a comment