iOS 11 Is Almost As Popular as iOS 10

47 percent of iPhone users already updated to iOS 11. This number is only 1 percent less than current iOS 10 adoption.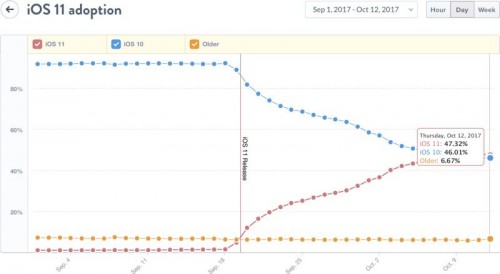 The first week after the release of iOS 11, adoption was around 25 percent. Now the adoption equals 47 percent, but it has slowed down significantly.
Last year iOS 10 needed 27 days to reach 66% adoption, and compared to this result iOS 11's adoption is 20 percent lower within the same period. A reason for this may be the fact that iPhone 8 and iPhone X launches have been separated.
Apple is now doing a good job improving iOS 11, it already released patches for several bugs. This may encourage people upgrading to iOS 11.
[via 9to5Mac]

Leave a comment