iOS 7.1.1 Successfully Jailbroken - Photo, Video

Good news for all jailbreakers - iOS 7.1.1 has been jailbroken. According to the image shared by famous security researcher Stefan Esser aka i0n1c, the devices running iOS 7.1.1 can be successfully hacked.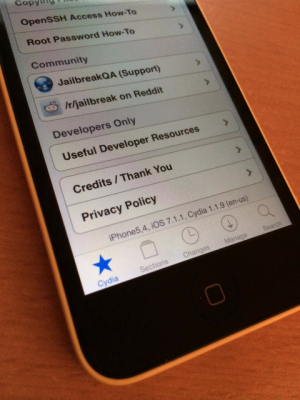 What we can see on the image is an iPhone 5c running Cydia 1.1.9. Here's what the hacker says about the jailbreak (via iClarified):
That iOS 7.1.1 jailbreak is not based on a long vulnerability chain. It uses a single beautiful kernel bug that goes from mobile to kernel.
A couple of minutes after i0n1c, another hacker - Winocm - posted a video of a jailbroken iPhone 4 running iOS 7.1.1. You can take a look at the clip below.
The hacker claims that this jailbreak will work on other devices if 'you put in the effort'.
I don't know if the jailbreak for iOS 7.1.1 will become public or not. Anyway, let's hope for the best.

Leave a comment