iOS 7.1 Adoption Rate in North America Reaches 12% in 45 Hours After Release

Although it is not recommended to upgrade to the latest iOS version if you have a jailbroken device, iOS 7.1 adoption rate in North America reached as many as 12% in just 45 hours after the official release, Chitika reports. Such results are based on online ad impressions from iOS-devices gathered between March 9th and March 12th, 2014.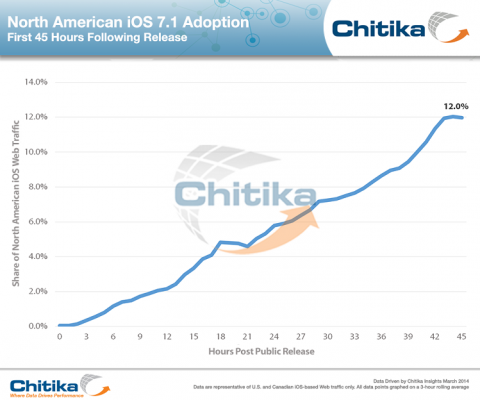 Here're some words and figures from the original report:
45 hours following its public debut, iOS 7.1 users are now generating a full 12% of total North American iOS Web traffic. With a 6.1 percentage point increase, this is roughly a doubling of the usage share observed within the earlier 24-hour study published on March 11, 2014. This share growth is largely on par with that of iOS 7.0.6, which hit 13.3% 48 hours after its release.
Have you already upgraded to the latest iOS version? Leave your comments below.

Leave a comment