iTunes Radio Becomes 3rd Most Popular Streaming Music Service in the USA

The latest estimates prove that iTunes Radio has become the third most popular streaming music service in the United States. Incredible result, especially if to keep in mind that Apple's service is just 6 months old. As stated in the Edison Research report (via iDownloadBlog), iTunes Radio is currently even more popular than Spotify, which is on the 4th spot. All the figures are available below.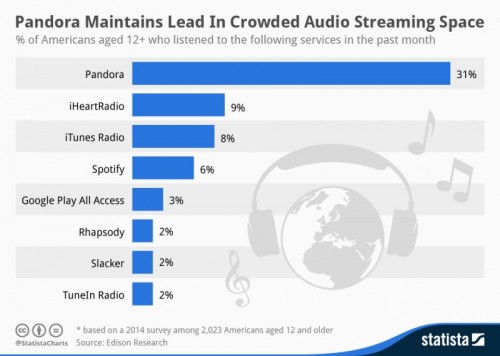 According to the data iTunes Radio now sits behind Pandora, who has 31% of the US streaming music market, and iHeartRadio, which has 9%. Then it comes in at 8%, Spotify at 6% and both Google Play All Access and Rhapsody come in at 3% and 2% respectively.
The results are based on a survey of over 2.000 Americans aged 12+, who regularly listen to music.
Apple launched iTunes Radio in September of 2013. Basically, it is an ad-supported music service, which, however, is ad-free for all those who use iTunes Match.

Leave a comment