iOS 7 Adoption Rate Reaches 85% - Apple

According to the updated figures that can be found on the App Store Distribution section, iOS 7 adoption rate reached 85%. This means that nearly 90% of the iPhone, iPad and iPod touch users have upgraded to the latest iOS version.
In case you don't know, Apple released iOS 7 on September 18th, 2013. On December 6th, about 74% of the devices were running iOS 7 and on January 27th, 2014 - nearly 80%.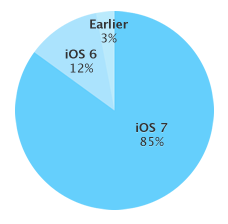 Here's what iDownloadBlog reporters write,
Apple on Monday refreshed iOS usage numbers, publicly available via the App Store Distribution section of its portal for developers. As measured by the App Store during a seven‑day period ending March 23, 2014, 85 percent of iPhone, iPod touch and iPad devices in the wild were on iOS 7 or later.
It should be noted that 12% of people continue using iOS 6 and about 3% - an older iOS version. And what about you? Do you have iOS 7 installed on your device? Leave your comments below.

Leave a comment