iOS 7 Adoption Rate Reaches 89.7% - Chitika Insights

According to the latest report from research firm Chitika Insights, iOS 7 adoption rate has recently reached 89.7%. Such figure is based on the data about web traffic generated by North American iPhone users.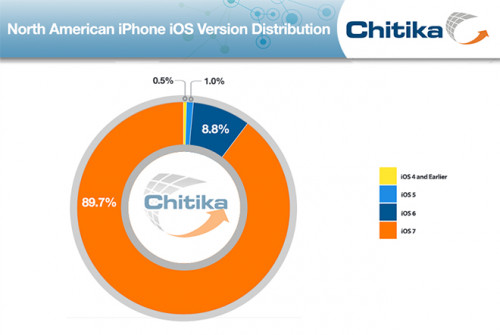 If to speak about the amount of traffic generated by iPad users, it is 84.8%, which indicates that the number of iPad owners is growing.
As noted by AppleInsider reporters,
Compared to the firm's last study in February, 83.3 percent of iPhone owners were running iOS 7, meaning that number rose 5.4 points over the past quarter ending in May. Apple iPad users moved from 78.5 percent to 84.8 percent during the same period, representing a 6.3 percent increase.
Apple is expected to announce iOS 8 at the annual Worldwide Developers Conference, which kicks off on Monday, so looks like another upgrade is just around the corner.

Leave a comment