iOS 8 Adoption Rate Continues to Grow Steadily

According to the recent information, which was published on Apple's App Store support page for developers, iOS 8 is currently installed on 63% of active iOS devices. The latest figures are based on the App Store usage, so they include only those iPhone and iPad owners, who have used Apple's repository over the past month. The actual number of devices running iOS 8 may be slightly higher.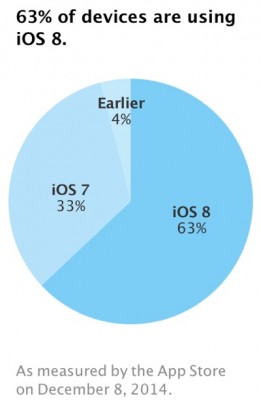 The adoption rate has increased about 7% over the last four weeks. If to compare today's figures to those of October 27th, we may see an 11% increase in the number of iOS 8 users.
The number of users installing iOS 8 initially stagnated at 47 percent just three weeks after the software was first released to the public, but installation numbers have been climbing steadily since then due to a number of bug fixes and an email campaign from Apple encouraging users to upgrade.
As to the number of users, who continue to use iOS 7, it is equal to 33%. Moreover, about 3% of users continue to utilize older versions of Apple's mobile operating system. These are mostly the owners of older iPhones and iPads.
Have you upgraded to iOS 8? If your answer is negative, please explain your decision in the comments section below this post.
[via MacRumors]

Leave a comment