iOS 8 Adoption Rate Reaches 68% - Apple

According to what the guys from Cupertino have recently posted on their Support page for developers, iOS 8 is now installed on 68% of active devices. Such a figure shows that over the last month, the number of iOS 8 users has grown 5%. As to the reasons for such growth, they include immense popularity of Apple's iPhone 6 and iPhone 6 Plus as well as strong smartphone and tablet sales during the holiday period of 2014.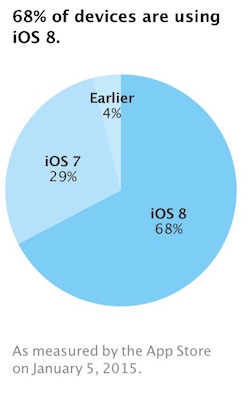 Since launching in September alongside the iPhone 6 and 6 Plus, iOS 8 has seen its adoption rate grow to 68 percent of compatible iOS devices, according to new numbers posted on the Apple Developer Support page.

[...]

Over the longer term, installation numbers are up 5 percentage points over the past month and up 12 percentage points in the past two months.
Despite the high iOS 8 adoption rate, there are still many people who continue to utilize iOS 7 or even older versions of Apple's mobile operating system. In particular, 29% of iPhone and iPad owners haven't yet upgraded from iOS 7 and as many as 4% use devices running iOS 6 or lower.
Have you already upgraded to iOS 8? What was the reason for such a step? Leave your comments below.
[via MacRumors]

Leave a comment