iOS 8 Adoption Rate Reaches 81% - Apple

According to the latest report published by the guys from Cupertino, iOS adoption rate has recently reached 81%. This number indicates that most of the iPhone and iPad users have already upgraded to the latest version of Apple's mobile operating system. If to compare this number to the one, which was published by Apple on April 13th, we may see a 2% increase in the number of active iOS 8 users. The data about iOS adoption is based on the App Store statistics, which means it is pretty reliable.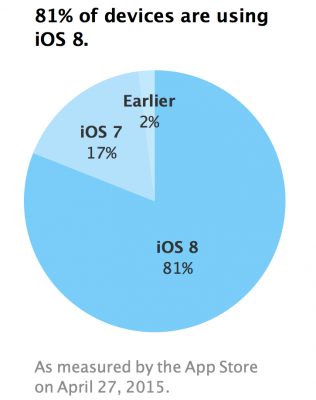 The adoption rate increases slowly, but steadily. Such events as releases of new iOS 8 versions increase the number of iPhone and iPad owners using the most-recent version of Apple's mobile operating system.
Apple has announced that iOS 8 adoption is now at 81% as measured by the App Store on April 27th. That's an increase of 2% from April 13th.

iOS 8.x adoption has been increasing slowly but steadily. The release of iOS 8.3 and the Apple Watch likely assisted in the slight bump.
As you know, Apple has recently released iOS 8.4 to developers for testing. Since this build contains a new Music app, I believe it will prompt people to upgrade. We'll see.
[via iClarified]

Leave a comment