iOS 9 Adoption Rate Reaches 67% - App Store Data

According to the latest data shared by Apple, the adoption rate of iOS 9 has recently reached 67%. The data is based on the App Store usage and reflects the number of active iPhone, iPad and iPod touch owners accessing the store to download applications and use Apple services. The adoption rate has grown only 1% since November 2nd, however, that's not strange since Apple hasn't released any firmware updates that usually boost the adoption speed.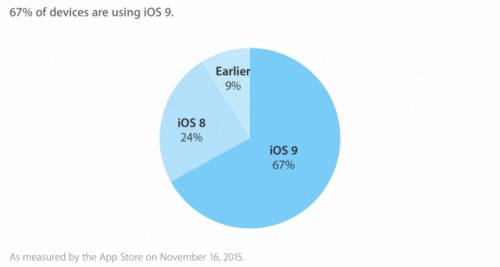 As to the older versions of Apple's mobile operating system, they're still popular among the customers. 24% of users haven't yet upgraded from iOS 8 and as many as 9% are still using iOS 7 or an earlier version. In most cases, people stay away from the firmware updates because of two reasons. The first reason is jailbreak and the second is old hardware that is not supported with iOS 9.
iOS 9 adoption rate is expected to rise during the holiday quarter as a result of strong iPhone and iPad sales. Apart from that, the recently-released 12.9-inch iPad Pro can also contribute to the iOS 9 adoption speed greatly.
If to speak about me, I'm on iOS 9.1 right now as I updated my device by mistake. Still, I'm pretty satisfied with this firmware version. The only drawback is that it's not jailbreakable yet.

Leave a comment