iPad 3 prices will remain the same

There were rumors that iPad 3 will cost $70-80 more than iPad 2. Now we have different rumors - 9to5Mac has heard from a reliable source that Apple will keep iPad 3 pricing the same as previous iPads:
We've gotten word that iPad pricing is going to be the same across the board as the current iPad 2 models which should be no big surprise given Apple's history – they rarely raise prices. Even better, some countries with currencies doing better than the US dollar should expect to see marginal drops in prices.
That means that iPad 3 will probably start at $499 for 16G WiFi model. This is not official numbers, but good rumors anyway.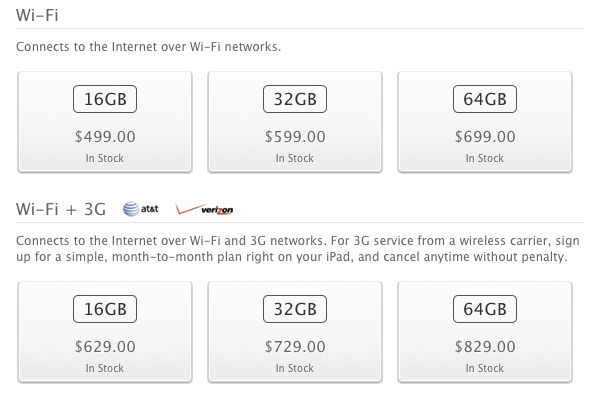 They have managed to get Model Numbers for iPad 3:
MC705LL/A – J1 GOOD A-USA
MC706LL/A – J1 BETTER A-USA
MC707LL/A – J1 BEST A-USA

MD328LL/A – J1 GOOD B- USA
MD329LL/A – J1 BETTER B-USA
MD330LL/A – J1 BEST-B-USA

MD366LL/A – J2A GOOD A-USA
MD367LL/A – J2A BETTER A-USA
MD368LL/A – J2A BEST A-USA

MD369LL/A – J2A GOOD B-USA
MD370LL/A – J2A BETTER B-USA
MD371LL/A – J2A BEST B-USA

Leave a comment