Apple published the list of 100 best of the best apps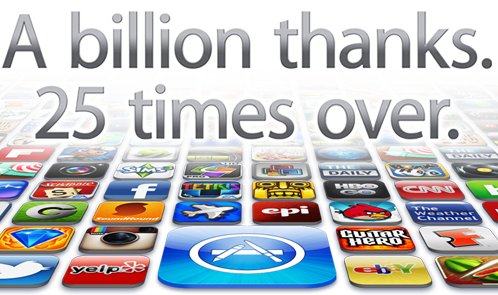 Apple's iTunes AppStore has recently reached 25 Billion downloaded apps. Apple has an updated its all time most popular apps list for both iPhone and iPad. There are 4 categories - iPhone apps, iPad apps, Free and Paid.
This list varies from country to country. For example, US AppStore number one apps are: Angry Birds, Facebook, Pages and Angry Birds HD Free, while in Russia - WhatsApp Messenger, Facebook, Angry Birds Seasons HD and Skype iPad.
You can take a look at the list in iTunes (link) or below:
Top Paid iPhone
Angry Birds
Fruit Ninja
Doodle Jump
Cut The Rope
Angry Birds Seasons
Words With Friends
Tiny Wings
Angry Birds Rio
Pocket God
Camera+
The Moron Test
Plants vs. Zombies
Skee-Ball
The Game of Life
Scrabble
Monopoly
Fat Booth
WhatsApp
UNO
Color Splash
The Sims 3
Flight Control
MotionX GPS Drive
Where's Waldo
I Am T-Pain 2.0
Top Free iPhone
Facebook
Pandora Radio
Words With Friends Free
Skype
The Weather Channel
Google Search
Google Earth
Angry Birds Free
Shazam
Netflix
Paper Toss
Twitter
Movies by Flixster
Bump
PAC-MAN Lite
Flashlight.
Unblock Me FREE
Temple Run
Instagram
Touch Hockey
Angry Birds Lite
ESPN ScoreCenter
Fruit Ninja Lite
Groupon
Angry Birds Rio Free
Top Paid iPad
Pages
Angry Birds HD
Angry Birds Seasons HD
Penultimate
Scrabble for iPad
Fruit Ninja HD
GarageBand
GoodReader
Angry Birds Rio HD
Cut The Rope HD
Numbers
Keynote
Words With Friends HD
Star Walk for iPad
MONOPOLY for iPad
Plants vs. Zombies HD
Where's My Water?
Friendly Plus for Facebook
QuickOffice Pro HD
Notability
Splashtop Remote Desktop for iPad
Pinball HD
MyPad+ – For Facebook & Twitter
Infinity Blade
Real Racing 2
Top Free iPad
Angry Birds HD Free
The Weather Channel for iPad
Netflix
Skype for iPad
Kindle
ABC Player
Pandora Radio
Angry Birds HD Free
CNN App for iPad
Words With Friends HD Free
Google Earth
Calculator Pro for iPad Free
Fruit Ninja HD Lite
Calculator for iPad Free
NYTimes for iPad
USA TODAY for iPad
Facebook
MyPad – for Facebook & Twitter
Flipboard
eBay for iPad
Angry Birds Seasons HD Free
Dictionary.com
Twitter
Solitaire
Friendly for Facebook

Leave a comment