iPad Pro Outperforms Other iOS Devices in Benchmarks

ArsTechnica experts have recently tested the iPad Pro using Geekbench 3 benchmark and compared the results of this tablet with the results of the iPhone 6s, iPad 2, iPad mini 2 and iPad mini 3, iPad mini 4 and iPad Air 2. The iPad Pro outperforms all iOS devices that have been tested in both single-core and multi-core tests and that is not strange since Apple has assured its users that this device is the most efficient in the entire lineup of portable Apple-branded gadgets.
Below you can take a look at the charts showing the Geekbench results.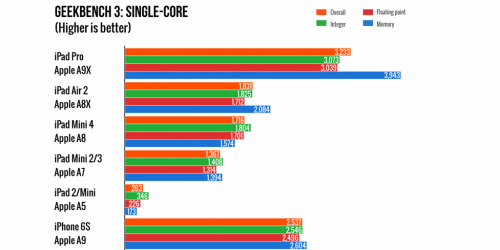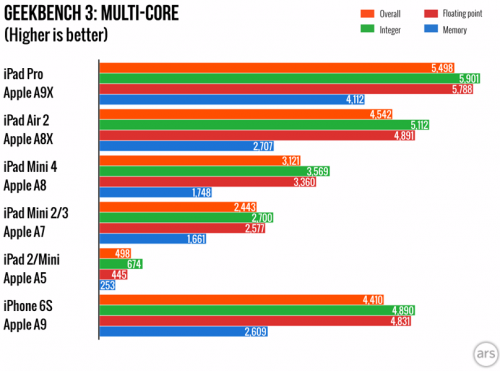 In single-core tests, the iPad Pro gets an overall score of 3233 against 1831 for the iPad Air 2. The much newer iPhone 6S gets closest, at 2537.

In multi-core tests, the differences look far more modest (...).
The 12.9-inch iPad Pro became available for pre-orders on Wednesday, November 11th. If you live in one of the 40+ countries of the first wave of launch, you can purchase the tablet as well as the Smart Keyboard and Apple Pencil right now and get your order within several days. The prices start from $799 for the entry-level Wi-Fi only model with 32GB of memory on board.
[via 9to5Mac]

Leave a comment