iPad Sales Will See 30% Drop in 2015 - Ming-Chi Kuo

According to what usually reliable KGI Securities analyst Ming-Chi Kuo writes, Apple will see a 30% drop in iPad sales this year. Kuo thinks Apple will sell only about 45 million iPad units.This drop will become the biggest one since the time of the release of the very first iPad.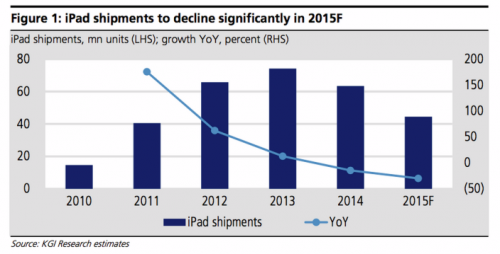 Kuo believes iPad shipments will "struggle to top" 45 million units in 2015, which is a 30 percent year over year decline from 2014. The first quarter of the year is said to be particularly bad, with a prediction that shipments will decline 52.7 percent in the first quarter of calendar 2015 to just 10.1 million units.
It should be noted, however, that not only Apple is currently experiencing decline in tablet sales. As noted by IDC researchers, global tablet shipments have also seen a decline in the last few quarters and this influenced top device manufacturers greatly. As it turns out, for some reason people have started buying less tablets.
Later this year, Apple is expected to release a brand new 12-inch tablet called presumably the iPad Pro. It will boast of a larger screen, a stylus and some other features. According to the recent rumors, the device will be targeted at enterprise market.
Despite all the disappointing predictions from the analysts, Apple CEO Tim Cook is quite optimistic about the iPad sales in 2015. In the fourth quarter of 2015 we'll see who was right, so let's wait.
[via iDownloadBlog]

Leave a comment