iPhone 4S is officially announced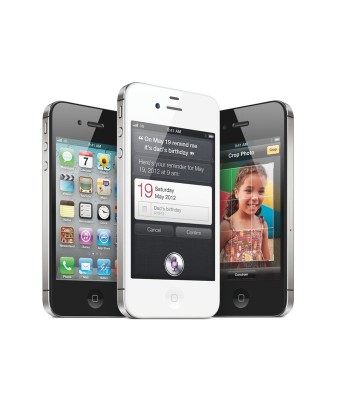 Tim Cook just announced much anticipated iPhone 4S. On the outside the iPhone 4S looks exactly like its predecessor iPhone 4, but on the inside it's "all new." Apple has put inside a dual-core A5 CPU, a new dual-core GPU that boosts graphics performance by up to 7x. The display is the same 3.5-inch Retina with VGA front camera.
The back camera got much better. It features 8MP sensor, backside illuminated CMOS sensor for better low-light performance, 5-element lens with a hybrid IR filter and apertures down to f/2.4. The 4S can record 1080p video and has a new image signal processor for image stabilization and facial recognition. The camera is also quite a bit faster than many other smartphone shooters. It needs just 1.1 seconds before being ready to take the first shot and only half a second between successive images.
The antennas on the sides have been rebuilt and iOS will intelligently switch between two different sets on the fly to avoid dropping calls no matter how you hold it. Those antennas are connected to a dual-mode GSM and CDMA radio that will let Apple's handset roam the globe while enjoying either 14.4Mbps HSPA+ or EV-DO Rev. A.
The iPhone 4S will also come with Siri virtual assistant, which is a great voice recognition system. You can just talk instead of typing and clicking.
The 4S will come in both black and white, starting at $199 for 16GB and $299 for the 32GB, but the big news is a new 64GB model coming in at a whopping $399. You'll be able to pre-order this friday, October 7th, and it'll start shipping on October 14th in the US, Canada, Australia, UK, France, Germany, and Japan. 22 more countries will have iPhone 4S later this month and another 70 by the end of this year.
Take a look at iPhone 4S vs iPhone 4 spec comparison.
More photos:

Leave a comment