iPhone 4S Significantly Increased Apple's U.S. Smartphone Share During October-November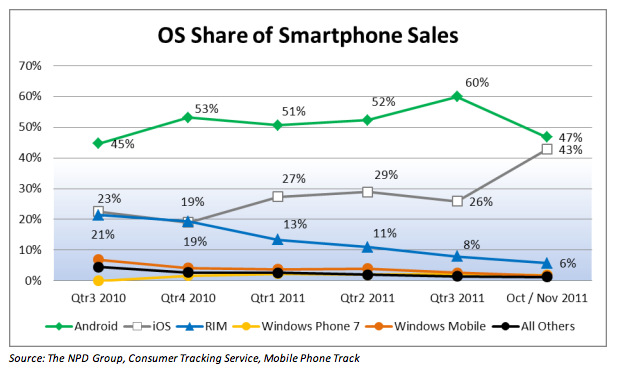 According to latest data from research firm NPD, iPhone 4S is turning the tables in the tough competition between Samsung and Apple. Analyzing U.S. smartphone sales data for November and October, the NPD found out that iOS considerably increased its share in U.S. smartphone sales, while the Android platform lost significant share to Apple (via Fortune).
Currently iOS market share is within spitting distance of Android with only 4% of difference. iOS was almost doubled its share of this market, climbing from 26% in the 3Q of 2011 to 43% in November. Android fell from 60% to 47% during the same timeframe.
The two rival platforms together grabbed an impressive 90% of U.S. smartphone sales. Furthemore, according to NPD's holiday list, three best-selling smartphones belong to Apple, iPhone 3GS, iPhone 4 and iPhone 4S.
Considering such a strong showing of iOS devices, Apple will probably overtake Android on smartphone sales when data for December 2011 becomes available.
Galaxy S 4G and Galaxy S II from Samsung supported with a strong anti-Apple ad campaign took the 4th and 5th places.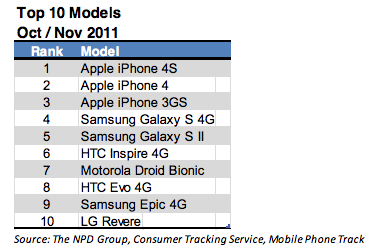 NPD's data shows a similar notion reported by ChangeWave Research, suggesting that in the next three months half of planned smartphone purchases will belong to Apple. Also ChangeWave noted that both Samsung and Apple are currently enjoing "explosive momentum" while other smartphone manufacturers are struggling to follow the lead.
Competition between Google and Apple has adverse effects on other manufacturers which are realizing that it is increasingly difficult to keep pace with the two technology giants. This is expecially true for BlackBerry manufacturer Reasearch In Motion which continues surrendering its share of the market to Google and Apple.
As for the overall device sales, smartphones takes 67% of all handset sales over the two months. Dumb phone comprised 15% of sales, while messaging devices accounted for 18% of U.S. handset sales.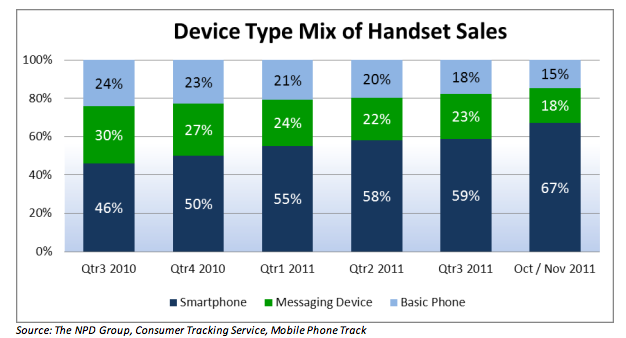 Leave a comment