iPhone 5c Was Best Selling Smartphone in Britain in August

Ahead of the iPhone 6 and iPhone 6 Plus launch this September, Apple's iPhone 5c became the top selling smartphone in Britain. In fact, this handset was so popular that it even outsold the Samsung Galaxy S5 and the iPhone 5s. And that is an impressive result, I must admit.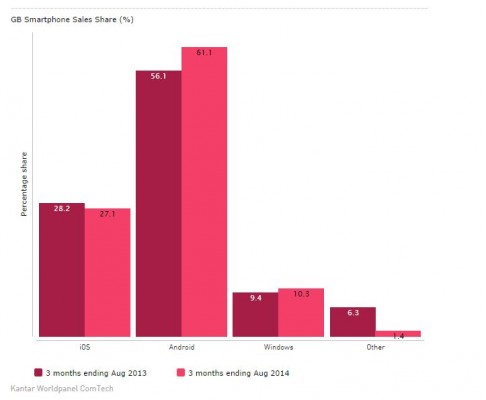 As noted by a research firm Kantar, Apple's iPhone 5c had a 8.9% share in Britain last August. Here're some more figures from the researchers, take a look.
Apple was boosted by the iPhone 5c, which was Britain's best selling smartphone during August.

[...]

The iPhone 5c was the best selling phone in Britain in August with 8.9% share, outselling the flagship iPhone 5s with 7.6% and the Samsung Galaxy S5 with 6.0%.
I really don't know why the customers in Britain chose the iPhone 5c and not the iPhone 5s, but probably it was all about the lower price.
Are there any iPhone 5c users here? What can you tell me about the smartphone, its design and performance? I'm waiting for your comments.
[via Kantar]

Leave a comment