iPhone 6 and iPhone 6 Plus Are Equipped with Two Accelerometers?

According to the results of a complex iPhone 6 and iPhone 6 Plus teardown performed by  Chipworks, the guys from Cupertino have equipped their new handsets with two separate accelerometers. Such a decision is probably caused by the desire to reduce the power consumption of the devices and to improve the user experience. Whether it is a successful one or not we shall see very soon, after the product launch euphoria ends.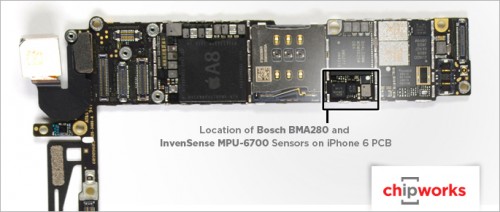 The accelerometers found inside of the iPhone 6 and iPhone 6 Plus are manufactured by different companies, namely, Bosch and InvenSense.
According to Chipworks, Apple may have decided to incorporate two accelerometers into the iPhone 6 and 6 Plus to both minimize power consumption and "improve the overall user experience."

The InvenSense accelerometer has a range of functions, allowing it to operate in several different modes, but it can draw more power than the Bosch accelerometer due to its higher sensitivity.
As you might have guessed, two separate accelerometers are required to make the power consumption more efficient. In simpler situations, new iPhone uses a simpler Bosch chip, which requires less energy. When this chip can't effectively cope with its task, the more advanced InvenSense accelerometer is enabled.
[via MacRumors]

Leave a comment