It Is Now Impossible to Downgrade to iOS 7.1.2

Earlier this week, Apple released iOS 8.0.1 and iOS 8.0.2, which contained a number of important fixes for Phone, Keyboard, Safari, Sharing, SMS/MMS messages, Photo Library and VPN. After seeding the new iOS 8 version to customers worldwide, the guys from Cupertino finally stopped signing iOS 7.1.2 firmware version. This means that all those people who migrated to iOS 8 or later no longer can downgrade.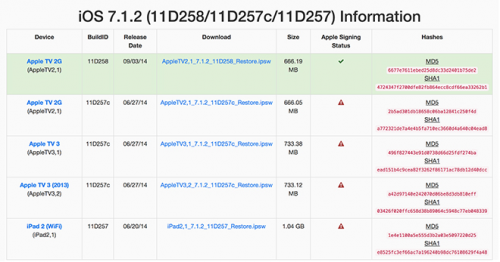 It should be noted, however, that the owners of devices, which are not compatible with iOS 8 (iPhone 4, for instance) still have access to iOS 7.1.2.
Apple's decision to halt iOS 7 firmware signing is part of the natural progression toward a wider iOS 8 rollout for compatible devices, which include the iPhone 4S and above, iPad 2 and above and both iPad mini models. The change was noted by developer Steven Troughton-Smith via Twitter earlier today and confirmed by multiple sources, including popular third-party iOS firmware database IPSW Downloads.
iOS 8.0.2 is currently the latest and the most stable version of Apple's mobile operating system. It was released about a day after iOS 8.0.1 that disabled cellular service and Touch ID on a wide number of devices worldwide.
[via AppleInsder]

Leave a comment, read comments [2]