iPhone 6s Named Most Popular Smartphone of 2016

According to the latest report from a research firm IHS Markit, the iPhone 6s was the most popular smartphone in 2016. In terms of global shipments, the handset outpaced the iPhone 7, iPhone 7 Plus, and the iPhone 6s Plus. What's even more interesting, the 2015 flagship was way more popular than the Galaxy S7, Galaxy S7 Edge, Galaxy J3, and other Samsung devices. Additional details can be seen below.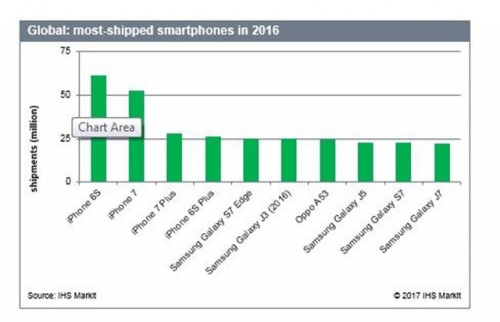 The IHS ranking is based on the data collected with the help of Smartphone Shipment Database that tracks quarterly shipments and contains information about 350 smartphone models. Unfortunately, the researchers did not provide any precise figures.
MacRumors estimates suggest that Apple shipped about 60 million iPhone units in 2016, while the shipments of the Samsung Galaxy devices accounted for about 25 million per model.
Apple introduced the 4.7-inch iPhone 6s alongside the 5.5-inch iPhone 6s Plus in 2015. It is worth pointing out that the older device was more popular than several new Samsung smartphones at once, including the 2016 flagships, the Galaxy S7 and Galaxy S7 Plus.
[via MacRumors]

Leave a comment