iPhone 7 Loses Market Share to Cheaper Android Phones in China

iPhone sales in China demonstrated a year-over-year decline in 2016, reports a  research firm IDC. According to the researchers, Chinese customers are waiting for the iPhone 8 that is why the market share fell from 13.6% and 58.4 million units shipped in 2015 to 9.6% and 44.9 million units last year. Apple took the fourth spot in the IDC ranking, while OPPO, Huawei, and VIVO managed to surpass the Cupertino-based giant in both market share and units shipments.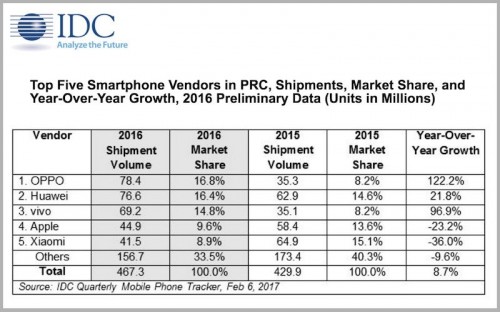 Analysts believe that in 2017 Apple may improve its position in China, luring more customers from Android. The reason for better performance this year is the iPhone 8 that will become a major update.
Despite the decline, IDC does not believe Chinese vendors have actually eaten away Apple's market share. Most Apple users are expected to be holding out for the new iPhone that will be launched this year, and that will help the brand to see a growth in 2017. Apple's 10-year anniversary iPhone will also likely attract some of the high-end Android users in China to convert to an iPhone.
Apple is expected to unveil the iPhone 8 with new OLED screen, A11 Fusion processor, wireless charging and other improvements in the fall.
[via MacRumors]

Leave a comment