Saurik Releases Cydia 1.1.28 with Several Improvements

A hacker nicknamed Saurik has released an updated version of Cydia that contains a number of under-the-hood improvements.
Below you can take a look at the list of changes found in Cydia 1.1.28.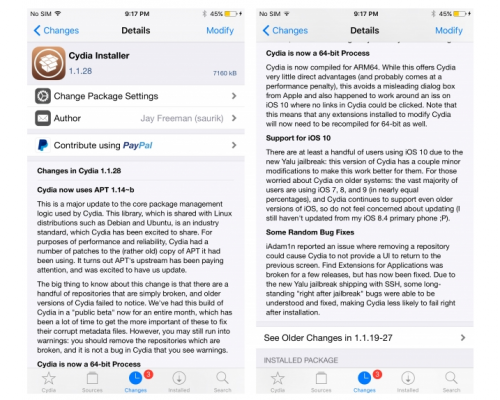 New APT 1.14~b library that enhances performance and reliability.
Cydia has become a 64-bit process.
Better optimization for iOS 10
Bug fixes
Yesterday, Luca Todesco tweeted that the iPhone 7 and iPhone 7 Plus will eventually support the yalu jailbreak. He didn't provide any timing or other details, but admitted the jailbreak of iOS 10.2 on these devices was not a priority for him.
If you own any 64-bit iPhone or iPad, you can hack it right now using the yalu102 jailbreak. It is available on Luca Todesco's website.
Before attempting to jailbreak your device, don't forget to back up important files. In this case, you won't lose anything due to an error or other issues with the jailbreak.

Leave a comment