iPhone 7 Plus Has 3GB of RAM - Benchmark

According to the latest benchmark results, the 5.5-inch iPhone 7 Plus is indeed equipped with 3GB of RAM. Its smaller sibling has reportedly retained 2GB of RAM.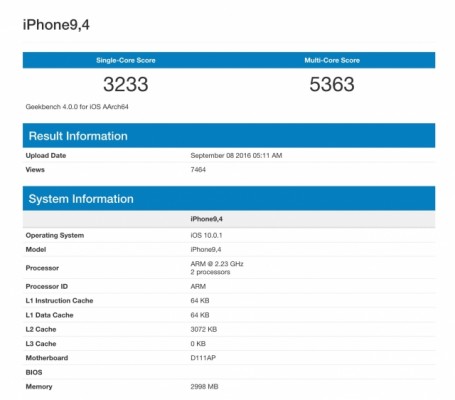 The information comes from Geekbench, where a new device with a model identifier iPhone9,4 has been spotted earlier today. The updated iPhone 7 Plus featuring Apple's most efficient and innovative quad-core A10 chip scored 3233 in single-core and 5363 in multi-core benchmarks, which is a solid result. The benchmarked device was running the latest iOS build, iOS 10.0.1 and the processor clock speed was 2.33 GHz.
The iPhone 7 Plus scored 3233 on the single-core test and 5363 on the multi-core test. That's compared to a leaked iPhone 7 benchmark which showed scores of 3379 and 5495.
Apple announced the iPhone 7 and iPhone 7 Plus at a media event on Wednesday. The cheapest iPhone 7 option is available for $649 and the base iPhone 7 Plus model costs $769. The prices outside the U.S. may differ due to fluctuations in the currency exchange rates.
[via iClarified]

Leave a comment