iPhone 7 Plus Outpaces Galaxy S8 Plus in Battery Test

Phone Arena has tested the new Galaxy S8 Plus and measured its battery life. The flagship performed very well, outpacing the Galaxy S7, Galaxy S7 Edge, Google Pixel XL and the OnePlus 3T. However, the iPhone 7 Plus performed even better.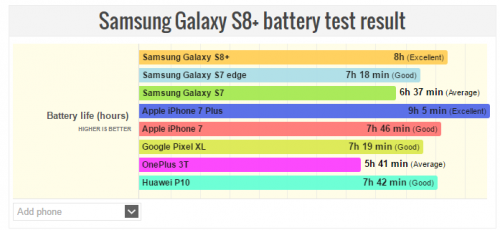 It took 8 hours to completely drain the battery of the Galaxy S8 Plus with the Exynos 8895 processor on board. In its test, Phone Arena used the default Full HD+ screen resolution of the handset, which is 1080 x 2220 pixels, and the brightness of 200 nits that is comfortable for indoor usage.
The iPhone 7 Plus, in its turn, was much better in terms of battery performance and left the Galaxy S8 Plus behind easily with the result of 9 hours 5 minutes. The most surprising thing is that the Korean flagship uses a 10-nanometer processor, while the iPhone has an 'older' and less power-efficient CPU.
It takes much longer to charge the iPhone, though, about 197 minutes. To compare, one can fully charge the Galaxy S8 Plus in just 99 minutes. For more details on other phones, see the chart below.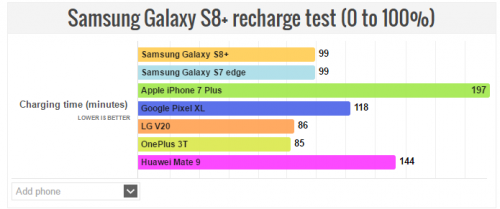 Samsung announced the Galaxy S8 and Galaxy S8 Plus on March 29.
[via Phone Arena]

Leave a comment