iPhone 7 to Be 35% Faster than iPhone 6s?

According to leaked GeekBench results, the long-awaited iPhone 7 will be approximately 35% faster than its predecessor, the iPhone 6s. Below you can take a look at the screenshot showing the score for the device with a model identifier iPhone9,3, which is allegedly one of the iPhone 7 versions. The device scored 3379 points in single-core and 5495 points in multi-core tests.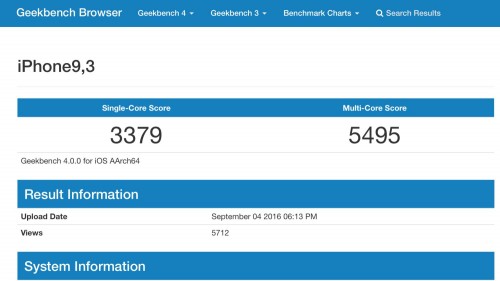 The leaked screenshot also reveals another interesting thing about the upcoming iPhone update. There may be three new models of the device, namely, iPhone9,1, iPhone9,2, and iPhone9,3.
The GeekBench report identifies the device as an iPhone9,3 – suggesting at least 3 different variants of the device. There is no iPhone 8,3 corresponding to an existing generation iPhone; the existing lineup has model identifiers iPhone8,1 and iPhone8,2 for the iPhone 6s and iPhone 6s Plus, respectively.
There is no way to confirm the legitimacy of the screenshot right now. The media event scheduled for Wednesday, September 7th will make things clear, so let's wait.
[via 9to5Mac]

Leave a comment